Doctor & Staff
Meet the experienced and friendly doctors and staff who make Vision Source OKC South the leading provider of vision care products and services in Oklahoma City.
Colby Ricks, O.D.
Dr. Ricks was born and raised in Blanchard, OK and graduated from Blanchard High School before going to Northeastern State University on a golf scholarship.  Dr. Ricks is a graduate of Northeastern State University Oklahoma College of Optometry in Tahlequah, OK.  During his last year of optometry school, Dr. Ricks received the honor of being named the outstanding fourth year clinician for the class of 2015.
Dr. Ricks is currently serving as District 5 director for the Oklahoma Association of Optometric Physicians, and he is serving on the Board of Directors for the South OKC Chamber of Commerce.  In 2021 Dr. Ricks received the honor of being named Young Optometrist of the Year for the Oklahoma Association of Optometric Physicians.
Dr. Ricks specializes in the management and treatment of ocular disease, contact lens fitting, primary care optometry, as well as managing all types of refractive surgery patients.
Dr. Ricks, his wife Chelsea, and son Colter reside in Blanchard, OK.  Dr. Ricks' hobbies include spending time with his family, going to the lake, playing golf, and watching his son Colter play sports.
---

Travis Yadon O.D.
Since 1978 Dr. Yadon, a native Oklahoman, has provided the highest quality eye care to South Oklahoma City. Dr. Yadon is a strong advocate of laser vision correction and uses lasers in treating ocular disease. Along with the other Vision Source doctors, Dr.Yadon treats ocular disease such as glaucoma, eye infections and dry eye.
A native of Woodward, his undergraduate studies were at Northwestern Oklahoma State University in Alva.  He then attended Southern College of Optometry in Memphis, Tennessee receiving a Doctor of Optometry degree in 1978.  Upon graduation Dr. Yadon joined the long established practice of Drs. Smith and Hewett in South OKC.  Vision Source OKC South continues a 72 year eye care legacy in South Oklahoma City.
He has served his profession as Oklahoma Association of Optometric Physicians (OAOP) District V Director, OAOP ten year Board member, and member of the Medical Advisory Committee of the Oklahoma Health Care Authority.  He was named outstanding Optometric Physician of the Year in 1998. The OAOP Distinguished Service Award was presented to him in 2016.   He served on the Board of the Oklahoma Association of Optometric Physicians as Treasurer for nine years.
He is a 43 year member of the Capitol Hill Lions Club, having served in every office including President and was named Lion of the Year in 2001. Leisure time activities include gardening, bonsai and table tennis (2021 Gold Medal, Oklahoma Senior State Games).   Dr. Yadon and wife, Lynn, live in South OKC and have two adult children and two grandchildren.
---
---
Lori McKinney – Benefits Administrator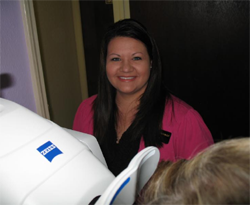 Lori is our Benefits Administrator.  She has been with our office since December, 2007.  Her duties include filing insurance claims, obtaining authorizations, billing duties, helping the technicians with patients, working the front desk and optical. Lori is also the VSR facilitator for the office. When she's not at the office, she enjoys hunting and fishing and spending time with her family.
---
Misty Courtney – Optical Manager
Misty is the optical manager here at Vision Source OKC South.  She has been in the optometric filed since 1991, and is very passionate about optometry and loves what she does. Misty says she loves being able to help patients and provide them with the best eye care experience.  Misty is CPO certified in optical, and she has served as the Chairman of the Oklahoma Paraoptometrics for the last 2 years.  When she is not at work, Misty LOVES spending time with her family and all of her grandchildren!
---
Rosa Garcia – Technician/Optical 
Rosa joined Vision Source OKC South in 2019 as a technician / optician.  She has been in the optometry field for 20 years and enjoys helping and caring for patients on a daily basis.  Her primary duties are assisting patients with their frame and lens selections, filing insurance, and screening patients for the doctor in pretest.  When Rosa is not working at VSOKCS she loves spending time baking, being outdoors at family gatherings, and watching her children and grandchildren playing the sports they love.
---
Merilee Sams – Technician
Merilee is an optometric technician at Vision Source OKC South.  She has been in the eye care industry for 12 years, and joined our team in June 2018.  When not caring for patients, Merilee enjoys spending her time outdoors with her family and her puppies!
---
 – Technician
---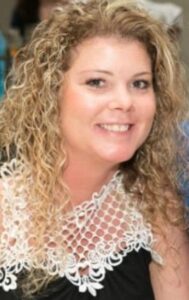 Jennifer Elliott – Receptionist
Jennifer is the receptionist here at Vision Source OKC South.  She has been with VSOKCS since September 2016.  In her spare time Jennifer enjoys spending quality time with her family and watching/playing with her grandkids!
---
Ana Rios – Technician
Bio and Pic coming soon